I love old-fashioned lemonade. Not the powdered stuff that you mix with water. Not the stuff you buy in a 2-liter. No, I am talking the stuff that you mix yourself, made from simple syrup flavored with lemon zest, lemon juice and water. The pucker-you-up stuff.
Imagine this: In Victorian days, no air conditioning. No electric fans, even. You have on a long skirt, bloomers, and a long-sleeved blouse, buttoned to the neck. Boots on your feet. It is HOT! Scorching. 90+ in the shade. Dry, dusty. The air shimmers with heat. Suddenly - Clip-clop, clip-clop down the street comes the ice man. Now, there is no soda and I don't believe most victorians drank iced tea, maybe they did, but this is my story. So what do you make? Lemonade!! You put some ice in it and sip away and are transported (mentally at least) to a shady tropical beach, with big breakers rolling in and crashing. A cool breeze blows. Relief!
Ok, so lemonade syrup is simple easy to make. But let's spice it up a bit! Make it a bit different. Give it a Zing!
Spiced Lemonade
This is enough for 4 drinks, 6 if you add more club soda
1 lemon
2 cups water
1 cup sugar
4 whole allspice
4 whole cloves
1 cinnamon stick
1 tablespoon chopped crystallized ginger
Pinch grated nutmeg
1 cup fresh lemon juice (about 8 lemons)
1 cup club soda OR seltzer water, chilled
Mint sprigs, for garnish (optional)
Remove rind in pieces from lemon with swivel-bladed vegetable peeler; avoid any bitter white pith.
Combine water, sugar, lemon rind, allspice, cloves, cinnamon stick, crystallized ginger and nutmeg in small saucepan. Bring to simmering; simmer, covered, for 20 minutes.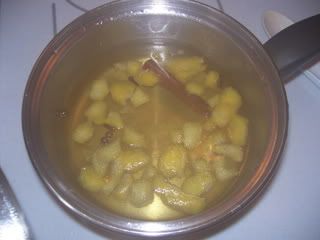 Strain into pitcher and chill; discard solids.
To serve, stir in lemon juice and club soda. Serve over crushed ice. Garnish with mint sprigs, if you wish.
You can just make the syrup, add the lemon juice and keep that in the fridge. Then to serve, just mix it with club soda to taste.
I do have to thank DS for this recipe! He made some last night and it is very nice!