Ok, sorry again! I promise next week my life will be more on track! I did have a very enjoyable day yesterday, had the day off of work so DS and Dad and I went shopping. We are fortunate to have Mennonite stores about 50 miles away, so we make trips to go down there and shop about every 2-3 months or so. One is a broken-box goods store, so you never know what you may find. This time around I found some golden curry sauce packets, some frozen breaded mushrooms and some frozen breaded spicy chicken chunks. They had a wonderful selection of Pepperidge Farm breads and I stocked up on those. Also had a great deal on Swanson's Organic chicken and beef broth. At the regular store, I got some nice Swiss cheese, some cinnamon tea, vanilla bean crush, cinnamon gummi bears and some really nice frozen rhubarb.
I am really enjoying this blogging thing, it is so much fun!! I would like to thank my friend Marie for being my biggest inspiration to begin my blog.
Now, as promised . . . a tropical paradise. Soft sand beneath your feet, cool ocean water lapping at your toes, the swish of the water sounding in your ears. A light breeze plays around you, bringing scents of tropical flowers. The rays of the setting sun gild your body with golden warmth. You have a coconut and a pineapple -so what do you do?? . . . you make
Pina Colada Cookies
Makes about 6 dozen
4 cups all-purpose flour
1/2 teaspoon salt
1 1/2 teaspoons baking soda
1 cup unsalted butter
2 cups brown sugar
2 eggs
1 (20 ounce) can crushed pineapple, drained
1 1/2 teaspoons rum extract
1 1/2 cups flaked coconut, lightly toasted
4 cups white chocolate chips
2 cups chopped and toasted macadamia nuts
3 drops pina colada candy oil
Sift together the flour, salt and baking powder, set aside. In a large bowl, cream together the butter and brown sugar. Stir in the eggs, pina colada oil, and rum extract, mix well. Stir in the dry ingredients until just combined. Using a large wooden spoon, stir in the drained pineapple, coconut, white chocolate chips, and nuts. Cover bowl, and refrigerate for 1 to 2 hours, until firm.
Preheat oven to 350 degrees F (175 degrees C). Line cookie sheets with parchment paper.
Roll dough into golf ball-sized balls, place 2 1/2 inches apart onto the prepared cookie sheets. Bake for 15 to 20 minutes in the preheated oven, until golden brown. Remove from baking sheets to cool on wire racks.
I forgot the nuts in mine (old age, I think) and they were just fine. I baked mine about 16 minutes on air-bake pans.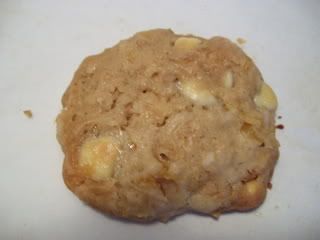 Tomorrow I will be posting homemade pizza dough!