Old-fashioned. Homey. Buttery. Crumbly. No matter how you want to describe it, cornbread is good stuff. My mother's family were country folks, old-fashioned. They ate a lot of corn bread.
There is a lot of controversy, still to this day, about how cornbread should be made. White versus yellow cornmeal. Buttermilk versus sweet milk. Sugar versus no sugar. Fried versus baked. I have eaten it several different ways, I like mine cooked in a cast iron skillet in the oven, yellow cornmeal, buttermilk and, depending on what I am eating it with, sweet or not. With beans, I prefer not sweet. With anything else, I like it a little sweet. Of course, you should always have it slathered (while still hot) with real butter and drizzled with honey.
The one way I DO NOT like cornbread is crumbled in a glass of milk. Might as well eat wet sand. Ick!
A lot of folks will put their cornbread in their bowl and then spoon their beans on top. Not me! I want them separate, thank you!
We had cornbread last night, crusty and hot, dripping with melted butter and drizzled with honey. I am sure that there will be cornbread served just this way at the marriage supper of the Lamb.
Cornbread
Makes about 12 servings (yeah, right!)
2 cups cornmeal
2 teaspoons baking powder
1 teaspoon baking soda
1-1/2 teaspoons salt
2 cups buttermilk
2 eggs, beaten
1/2 cup vegetable oil
Mix together dry ingredients. Add milk, eggs, and oil. Mix well. Turn into well-greased 10-inch cast iron skillet (or 13 x 9 pan). Bake at 425 degrees F for 35 minutes. We usually add a little sugar, 2 Tablespoons or so.
We buy our cornmeal from the Amish and Mennonite folks, they sell coarse-ground and fine. We buy a bag of each and mix it.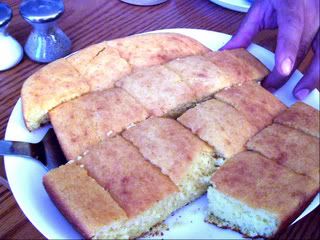 And photobucket is being unmanageable this morning, sorry!