There are some things in life which go together hand-in-hand. Salt and pepper. Peanut butter and jelly. Strawberries and rhubarb. Now, personally I like the tastes of rhubarb all by itself. But a lot of people do not, so they think you have to have strawberries with it.
When I was looking to make a dessert for Father's day, I needed something quick and easy. So I rooted around and found this recipe for a strawberry-rhubarb pie on allrecipes. It is quick, easy and delicious.
Now we all know that I have troubles making pie crust. Oh, it tastes fine, flaky and all that, but it looks pretty rough. So, courtesy of Cooks Illustrated, I found a recipe on the web for a pat-in-the-pan piecrust. You can make it look just like a regular crust, although it is not as flaky. Tastes great. I was crunched for time, tho, so I did not take the time to make it look like the regular ones. And it turned out fine, no one cared.
We had fresh strawberries from our tubs and I had bought some frozen rhubarb from the Mennonite store in Versailles. If you have a Mennonite or Amish store near you, I urge you to go. We buy spices of all kinds at fantastic prices. Their flour can't be beat either.
Strawberry-Rhubarb Crumb Pie
Makes 1 (9-inch) pie - serves 8
Crust
2 ounces cream cheese, room temp
1/2 cup butter, room temp
1-1/4 cups flour
1 tablespoon sugar
1/4 teaspoon salt
Beat cream cheese and butter in large bowl until creamy. Add flour, sugar and salt. Beat until it starts to clump together. Spray your pie pan with cooking spray. Dump your dough in the pan and pat it out with the heel of your hand until it is approximately the same thickness all over.
Filling
1 egg
1 cup sugar (I thought this a little excessive and used 3/4 cup)
1 teaspoon vanilla
2 tablespoons flour
3/4 pound fresh rhubarb, diced
1 pint fresh strawberries, halved or quartered if very large
Mix egg, sugar, vanilla and flour in medium bowl. Stir in rhubarb and strawberries. Pour into pie shell.
Crumb
3/4 cup flour
1/2 cup brown sugar
1/2 cup oats
1/2 cup butter (I thought this a bit excessive, used 6 tablespoons)
Mix flour, sugar and oats in bowl. Cut in butter. Sprinkle over top of filling.
Bake at 400 degrees F for 10 minutes. Reduce heat to 350 and bake for 35 minutes. Best served with whipped cream or vanilla ice cream.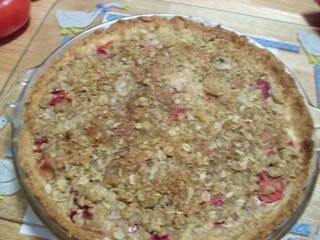 Using frozen rhubarb, I baked my pie a bit longer. I also used a deep dish pie pan as I have a morbid fear of pie bubbling over in the oven.