button
FOR TODAY June 23, 2008...
Outside My Window...
There is weak sunshine and it is cloudy again. Rather cool this morning. There are beautiful geraniums, all colors of pink, red and white.
I am thinking...
That I am really glad I was able to get off for vacation the week of July 4th. I need a vacation, and this will give me 5 days off in a row!
I am thankful for...
The bounty that God gives us every day. We have tomatoes that are starting to ripen, our fig tree is loaded with baby figs, we have blue berries ripening and I picked the last of the strawberries this morning.
From the kitchen...
Roast pork with French Herb Rub, potato salad and steamed broccoli. Red-n-white cookies for dessert.
I am wearing...
A blue jean skirt with hot pink T-shirt and my houseslippers - of course.
I am creating...
A cross stitch book mark for a sick friend. Honey lives in Oregon and has cancer. I met her on Recipezaar on the Great Britain and Ireland Meet and Greet. she is a sweetheart.
I am going...
shopping on Wednesday!
I am reading...
Country Wit and Wisdom. Lots of preserve recipes, recipes for home-made lotions and the like, very fun.
I am hoping...
that the man who came to church yesterday morning will come back. He seemed like a lot of fun!
I am hearing...
The neighbors from down the street heading to work. They have a ditching business and drive past most days in their big truck.
Around the house...
I am doing laundry today. That, and some weeding tonight will be about it for today.
One of my favorite things...
cookbooks. I LOVE cookbooks!!! I am currently looking thru my The Cat Who . . . Cookbook. So many possibilities.
A Few Plans For The Rest Of The Week:
Copying off some recipes to use for making preserves, organizing the kitchen cupboards, making vacation plans, sending a package to my friend in Scotland.
Here is picture thought I am sharing...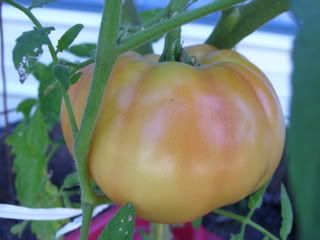 Ain't she beau-ti-fool? Our very first tomato, will be ripe in no time! Look out BLT's.
PS: For those of you interested (Thank you muchly) I have posted my rosewater recipe! Just scroll down and take a look. Also, I will be posting the lime jelly recipe tomorrow.
Hop op over to
The Simple Woman
and fill out your own daybook! It is quite easy and one of these days, I promise I will figure out the button at the top!