Okay, so this is Wednesday's post, started on Tuesday, posted on Thursday!
We like the farmer's almanac. They are so interesting to read and a lot of times the weather predictions are spot on. There are some puzzles and interesting articles. They usually have a few recipes and some of them are quite good. Best of all, the almanac is free!
Some folks around here swear by the almanac and they will not plant or cut hair or do anything unless the almanac says so.
This recipe is from the 2008 Farmer's Almanac. It was submitted by Scooter O'Cain from Chapin, South Carolina. It really turned out to be a winner!
This is basically a shrimp scampi mixture on top of baked potatoes.
Scooter's Sea Spuds
Serves 4
4 baking potatoes
1/2 cup butter (1 stick or 1/4 lb.) (I thought this was just a tidge excessive, would use maybe 5 tablespoons)
4 scallions/spring onions, chopped
1/2 cup mushrooms, chopped
2 lb fresh shrimp (again I thought this was excessive, I used 1-1/4 lbs and it worked nicely) peeled
1/4 cup fresh lemon juice (I used a little less)
garlic powder
salt
coarse black pepper
1/2 cup grated sharp cheddar cheese
1/4 cup choppped chives
Bake your potatoes in the oven, wrapped in foil.
Melt butter in skillet. Saute scallions and mushrooms. Add shrimp and saute until pink. Sprinkle with lemon juice. Add garlic powder, salt and pepper to taste. Mix all ingredients well in skillet.
Fluff potatoes (cut slit in top and then squish it from both ways). Spoon the saute on top of the potatoes, making sure to get some of the pan juices. Top with grated cheese and chives. Serve with crusty bread and a nice salad.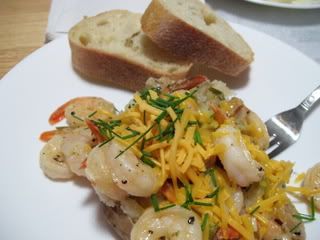 This is a fantastic recipe and a great way to eat shrimp.