Sorry I missed yesterday, camera was again absconded with. Back on track now! We have been having storms also, nothing bad thru here thankfully. But we have had almost 3-1/4 inches of rain in the last 3 days.
Peanuts. A much loved treat. Not actually a nut, but a legume. But what other legume has ever been so loved? Peanut butter. Peanuts. They are everywhere! In the shell, in Cracker Jacks, in your sandwiches, in salads, salted, unsalted, honey-roasted . . . the list is nearly endless!
This is a recipe from taste of home and if I were to make it again, I would not cook it as long in the oven. Either that or I think maybe we need to re-set our oven temp, it seems to get hotter. Rather fun to make, if kinda sticky. These are a great kid pleaser.
Sugared Peanuts
Makes 5 cups.
5 cups unsalted peanuts (I had a difficult time finding these, but they come in the can just like the salted ones)
1 cup sugar
1 cup water
1/4 teaspoon salt
Put peanuts, sugar and water in a large, heavy saucepan. Bring to a boil and let cook until liquid evaporates, about 10 minutes or so.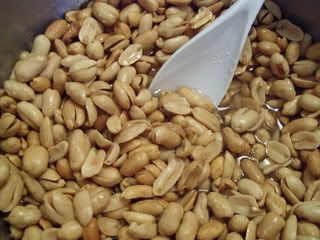 Spread on greased cookie sheet. Sprinkle with salt and bake at 300 degrees F for about 30 minutes. Spread on waxed paper to dry. (Note: You must work quickly after taking them out of the oven, they harden up very fast)
That is it! Let them dry and you are snackin' big time!