I have been to 4 different schools in my lifetime. For kindergarten I attended Palmer Elementary in Anchorage, AK. I think (don't quote me on this) the school colors were purple and black. For the rest of grade school I attended Ord Elementary in Ord, NE. Colors - Red and white. For 7th and 8th grade, I attended Weableau Jr.-Sr. High School. Colors - black and gold. For 9-12 I attended Windsor Jr.-Sr. High school. Colors - black and gold.
We are planning on going to Ord for a family reunion next week. (Possibly) I usually try to go and see the old elementary school whenever I go there, just to see how it has changed.
I remember when my grandfather died, I was about 15. My 2 cousins, Gerald and Galen and I did not want to go to family night. We were very upset, as we all loved Grandpa dearly. Also, Grandpa had always told us he wanted to be buried in his overalls, which is what he always wore, and they put him in a suit. So we went walking around town and ended up at the grade school. We had all went to school there at one time or another. I remember climbing up the cyclone slide - you climbed up spiral stairs in the center and went either left or right and it was a slide that was in a spiral. We usually waited until we had about 8 people and then all went at once, that way you went faster! Anyway, we climbed up inside and scratched our initials in it with a key. Then we put BURSON in big letters. I am sure that the slide is long gone now, but I would like to go see anyway!
In honor of this, I am posting this cookie recipe today.
Mind you, I have shamelessly lifted this recipe from Dianne Mott Davidson. She writes the Goldy Schultz murder mystery series. Her characters are endearing, but what I love is that Goldy is a caterer and the stories always involve food! She gives several recipes as well in each book.
These cookies are like a miniature strawberry cheesecake. They are best eaten on the day they are made, as after a few days they get a bit wilty-looking. Great for a tea party! Make sure you have smallish strawberries for this recipe, the big huge ones will not do at all.
Red-N-Whites
Makes 5 dozen.
1 cup butter (2 sticks or 1/2 pound), softened
1 (3 ounce) package cream cheese, softened
1/2 cup sugar
1 teaspoon vanilla extract
2 cups all-purpose flour
36 small, ripe strawberries, hulled and halved
Preheat oven to 350 degrees. In a mixing bowl, beat the butter with the cream cheese until well blended. Beat in sugar and vanilla, then stir in flour until well mixed. Using a 1-2 tablespoon measure, shape the mixture into small balls and place 2-inches apart on ungreased cookie sheets. Make a small indentation on top of each cookie with your thumb. Carefully place a strawberry half, cut side down, in each indentation. Bake for 12-18 minutes or until very slightly browned. Cool on racks.
You can dip the strawberries in sugar before putting them on the cookies if you like.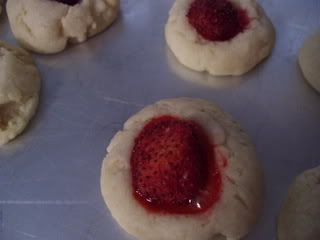 On your way to strawberry heaven! Gotta watch it with these dudes, because one is just a bite and before you know it, you have scarfed half a dozen!