I like tomato soup. I do not, however, care for cream of tomato soup. Oh, I will eat it, it just isn't my favorite. Now what is weird is that when I was pregnant with my son, I craved cream of tomato soup. I could make it and eat the whole can all by myself. Usually with Sour Cream and Onion Pringles or buttered Ritz crackers. So guess what DS's favorite food is? Cream of tomato soup. Now, I would not even touch it up until I was pregnant with him and although I will eat it now, it is not my favorite. A spoon or two will do me.
I do like just plain ol' tomato soup. Usually with rice. I like it with chunks of tomatoes in it. Now DS will eat a ton of cream of tomato soup, but he does not want any chunks of tomato (or any other veggies) and he does not like just plain tomato soup. Except for my homemade. This is the one soup that we can agree on.
This soup is great to make, very easy, and will warm you up on a rainy day. Or have a cup on a sunny day. It is made mainly with staples, the one thing that you might not have around would be the fresh tomato but you can do as I do sometimes and sub part of a can of diced tomatoes for that.
Tomato Rice Soup
Serves 4-6
1/2 cup chopped celery
1/2 cup chopped onion
2 cloves of garlic, minced
1 medium tomato, chopped
2 tablespoons butter
2 (14-1/2 ounce) cans chicken broth (I used a 32 ounce box and it worked fine)
1 (15 ounce) can tomato sauce (can use 2 (8 ounce) cans)
1/2 teaspoon sugar
1/2 teaspoon dried basil
1/2 teaspoon dried oregano
1/4 teaspoon dried parsley
1/4 cup rice, uncooked
Salt and Pepper to taste
Saute the celery, onion, garlic and tomato in the butter, which you have melted in a saucepan. Let it cook for about 10 minutes or so over a lowish heat. Add the broth, tomato sauce, sugar, basil, oregano and parsley. Simmer, covered, for about 10 minutes. Strain out the vegetables and discard. Add the rice to the remaining tomato liquid. Add salt and pepper. Simmer, covered, until rice is cooked.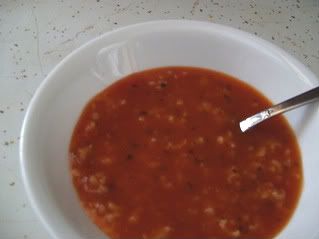 The original recipe comes from The Cat Who . . . Cookbook by Julie Murphy and Sally Abney Stempinski. I have given it my slant, just a tidge.
Now, if you are cooking this for picky folks (like DS) you strain the vegs out as stated. If doing this, I recommend chopping them into large chunks to make it easier to fish out. If not doing it for picky folks, leave the vegs in, but chop them smaller. You can also throw in a can of diced tomatoes or some fresh chopped ones if you like.
The best thing to serve this with is a grilled cheese sandwich, which I will be posting later on this week! (My special version, of course) Also this week, be on the look out for lime jelly, red-n-white cookies, old-fashioned beans and ham and cornbread.