First of all, I would like to thank so many of you for inquiring about/commenting on my making rosewater. Actually it is quite easy to do, providing you have access to some fragrant roses that are not sprayed with pesticide. All of the rain we have gotten this year has been bad for somethings, such as the farmers not being able to get crops in, but for the flowers it has been a blessing. Never have our flowers been as pretty as they were this year. We have 3 big pink rosebushes, and they have went crazy this year. There are new shoots almost as high as the house! They had an abundance of blossoms, so to make good use of them, I made some things. Yes, we made some bouquets and such, but I also made some rose petal jam and made some rosewater.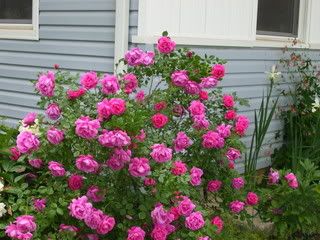 True friendship is like a rose. We can't realize it's beauty until it fades."
Roses are amazing flowers. I have an allergy to a lot of fresh flowers, but roses do not seem to bother me as much. I do not know if the tradition still exists, but I was born in Germany, and back then anyway, when a baby girl was born, you got pink rosebuds. Some neighbors brought my Mom some and we of course have pictures and I still have the vase. Now and then I will buy pink roses at Aldi's - they have beautiful roses there very cheap - and enjoy them for a bit. Maybe that has influenced me to the point that pink roses are my favorite flowers?? Hmmm . . . probably just a bit!
Rosewater
1 liter mineral water (I could not find this, so I used distilled water. I think the basic idea here is to not have any other tastes that would come thru)
3 large handfuls of fresh, organic rose petals - as for this I had the colander in the picture above FULL of roses - I probably used 1/2 to 3/4 of the roses. Just pluck the petals off
Place the petals in a large sauce pan. Pour the water over. You want your water steaming, but not boiling. Let cook until water is reduced by about half. Strain off petals. Place rosewater in a sterile jar and store in the refrigerator.
It is that easy, Angie!! You all were close when you were kids, just needed to cook it a bit!
Rosewater can be used as a flavoring for baklava, cookies, many different things.