Romance. Giddy laughter. Soft whispers. Moonlight. Silk. A tiny bite of something special. Chocolate. Lace. Roses. Yes, especially roses.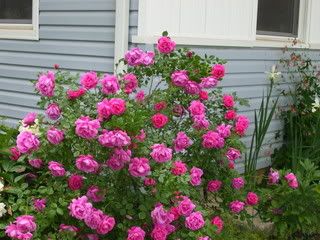 As you can see, our rose bushes were absolutely loaded this year.
As many of you know, I belong to Recipezaar, the best recipe spot on the 'net. (Shamless plug!) Anyway, there is a fantastic lady who posts on there as French Tart. She has
THE MOST GORGEOUS RECIPES.
I don't know how she does it! So she posted this recipe and I just had to have a try.
It is absolutely without a doubt one of THE most sensual recipes a person could ever have the pleasure to make.
Picking roses under the warm spring sun, while being serenaded by a birdie orchestra with a background accompaniment of buzzing honeybees. All the while, the scent of the roses wafting on a light breeze that playfully ruffles your hair as it wends its lazy way past.
Then, as you pull the petals from the roses, their scent again envelops you, while their soft, silken petals slide softly over your fingers.
Then the smell of roses wafting through the house as you cook the jam, the smell lingers for hours, much better than any potpurri. The color! I used pink roses because that is what I had, but red would be gorgeous and even yellow would be pretty. Or the peachy colored ones!
Then, after putting it in jars, the satisfying sound of the little "schnick" when they seal - music to my ears! Then the sight of it in the jar, ruby red and glistening, calling out to you to open the jar and let the magic loose!
Anyway, this is just a fantastic recipe! A must try, just make sure that your roses are not sprayed with pesticides or anything.
My Love is Like a Red, Red Rose: Rose Petal Jam
by French Tart
Mine made 3 1/2 pint jars
Ingredients
1 pint boiling water
1 lb strongly scented freshly picked red rose petal
1 lb caster sugar (for Americans, superfine sugar)
2 limes, juice of
2 lemon, juice of
2-3 drops rose water, 2-3 drops (optional)
Directions
Fill a large pan with the boiling water. Add half the rose petals, cover and leave to stand for two hours.
After two hours strain off the liquid and transfer to a clean pan. Discard the steeped rose petals.
Add the sugar to the rosewater and stir over a low heat until dissolved. Add the lime juice and remaining rose petals, reserving a handful for later.
Bring to boiling point, reduce the heat and simmer until setting point is reached. To test for this, pour a little onto a cold saucer. Push it gently with your finger. If it wrinkles, it is ready. If not continue to simmer for a little longer.
Add remaining rose petals and simmer gently for another three minutes then pour into a sterilised jar and seal. The rose petals should rise to the top leaving clear jelly underneath.
Pot and cover the jam.
Chef's tip.
You'll need to sterilise the jars or your jam will go mouldy. Wash them thoroughly in warm, clean, soapy water, drain upside down on kitchen towel and place on a baking tray in a preheated oven at 140C/fan120C/gas 1 for 15 minutes. Turn the oven to its lowest setting and keep the jars inside while you make the jam.
This is her recipe, I made just as above, but used american canning jars and then hot-water bathed it for 5 minutes. They all sealed fine.
The picture does not do this justice at all, it is so lovely.
A big thank you to FT for allowing me to post this on here!
Go on, make some romance!
Until Monday!