Refreshing. Light. Tart. Sweet. Fluffy. Creamy. Crisp. Melt-in-your-mouth. Make you pucker. All of these words refer to 1 dessert - lemon meringue pie.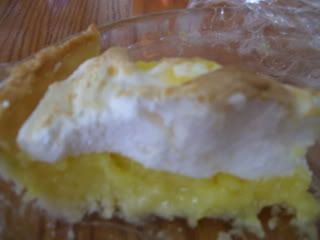 I am a lemon lover. Whenever I go into a restaurant, I order my ice water with lemon. Or my tea. When I was little, I can remember going over to my cousin's house and we would get a lemon, cut it in quarters, sprinkle on some salt and see who could keep their quarter in their mouth the longest. I don't think she had any tastebuds, because she could always outlast me!
I have long been in the search for the perfect lemon meringue pie. Mind you, if I am crunched for time, I am not above skipping the meringue and just topping it with whipped cream, but that is another creature altogether. My piecrust usually does not look the best, but it tastes good and it is flaky. Sometime when I am on vacation, I am going to take about 3 days and do nothing but perfect my piecrust making. Until then. . .
Lemon Meringue Pie
Makes 1 pie.
I am not going to give you a recipe for pie crust, as I will assume that you have your own and it works brilliantly. Just bake it blind and let it cool.
Filling
1 cup sugar
1/4 cup cornstarch
1/8 teaspoon salt
6 large egg yolks
2 teaspoons zest from 1 lemon (original recipe says 1 Tablespoon, but I felt it was a bit much)
1/2 cup juice from 2-3 lemons
2 Tablespoons unsalted butter
Whisk sugar, cornstarch and salt together in large saucepan. Add egg yolks and then immediately, but gradually whisk in 1-1/2 cups water. Bring mixture to a simmer over medium heat, whisking occasionally at beginning and more frequently as mixture begins to thicken, 8-10 minutes. Whisk in zest, then lemon juice and lastly butter. Bring mixture to a good simmer, whisking constantly, simmer for 1 minute. Pour into pie shell and cover surface with plastic wrap.
Meringue
This is a bit of a different meringue, as it does not use sugar, but marshmallow cream. Very easy and very white.
3 egg whites
pinch of salt
1 (7 ounce) container marshmallow cream
In small deep bowl, beat egg whites with salt until soft peaks form. Gradually add marshmallow cream, beating until stiff peaks form. Remove plastic wrap from pie filling surface and spread meringue over pie, sealing to crust. Bake 12-15 minutes in 350 degree F oven, until browned.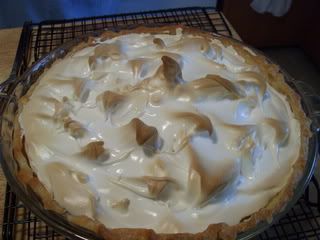 Tip: When beating egg whites or cream, they will whip faster in a small, but deep bowl. I have a stand mixer with 2 sizes of bowls, large and small and the small one works perfectly for this.
Until Monday, dear readers!