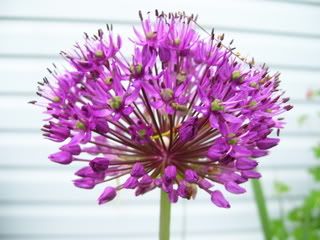 I love pedantic proverbs. You know, those silly things where you take an ordinary saying and make it all verbose like saying: Members of an avian species of identical plumage congregate. Or in plain speak, birds of a feather flock together. Just another one of my curious personality aspects, I guess. I like word puzzles.
I like a challenge. Something, that when you have mastered it, you can sit back and say "Wow, never thought I would be able to do that." Something that gives you a warm, fuzzy feeling. So you can say, Hey, I stretched myself, got out of my box, and I DID IT!!!
Sometimes our greatest challenges in life come from within ourselves. We have to challenge ourselves or we just drift. This blog was a way for me to challenge myself. I am normally a very private person (my DS says I am a hermit). I just don't feel comfortable sharing everything with everyone.
But sometimes, we miss out on great treasures by not sharing things with others. Sometimes we miss a blessing by not blessing others. That is why, dear readers, I am sharing this recipe with you today.
Gallic Lily Pottage (Otherwise known as French Onion Soup)
Serves 6
6 large onions (I used Vidalia), sliced thinly
2 Tablespoons butter
1 Tablespoon good olive oil
6 cups beef broth
Fines Herbs to taste
Fresh ground black pepper
6 slices French bread, 1-inch thick
Garlic butter
Shreddedd Parmesan and mozarella cheese, about 1 cup
Melt butter with oil in large stockpot. Add onions and cook SLOWLY until onions are caramelized, about 1/2 hour, stirring occasionally. As you are cooking them slowly, they should not burn. Slowly pour in beef broth and add Fines Herbs and pepper to taste. Simmer to let flavors bloom, about 1/2 hour or so.
Butter bread with garlic butter. Top with cheese and broil at 450 degrees F, until lightly browned.
Ladle soup into bowls. Slide bread onto soup and serve.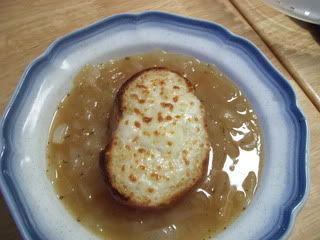 I know, I know. Purists will say - what???? Well, I used fat-free chicken stock and I do not have the requisite oven-proof bowls that you are supposed to use. Also, we were out of Swiss cheese. But it was delicious nonetheless. Also, as I was crunched for time, I sweated my onions a bit to hurry them along, so they did not caramelize as well.
Hope all of my readers have a Happy Mother's Day! I will be back on Monday!