We have 4 kitty-kats. Two girls and two boys. They are great fun to watch. They play, they fight, they are hilarious. They range in age from 2 years old to about 13 years old. None of them are pure-bred, but they are all loved.
This is our oldest kittie, Sable. She is mostly Persian. She is a lap-kitty extraordinare, she loves to be held and will get on anyone's lap. She does not, however, play well with the other kitties. Many a time they have had a nose scratch from getting a little too curious about her. Her favorite things are running outside every chance she gets and kitty treats. She is our smallest cat.
This is Finnegan, our youngest cat. He is part Egyptian Mau and man, can he run. He likes to pester the other cats. He is very timid around company and is not a lap cat at all. His favorite things are chasing flies and kitty treats.
This is Miss Tabby Gray. She is Dad's cat and sleeps only with him. She purrs only for him, too. She is not a lap cat, except for Dad. She is pretty obese and lazy, but we love her. Her favorite things are butter and taking a bath in the water dish.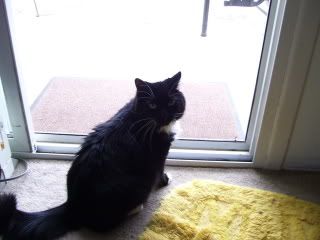 This is my cat, Moodie. He is totally loveable. (I'm not biased at all!) He is not really a lap cat, but he does like to sleep with me, on his back, snuggled right up to me. He is very playful and likes everyone, even most strangers. His favorite things are nacho cheese Doritos and his fuzzy ball.
Just a small insight into our world today!
Last week, I promised you another easy pizza. Here goes!
Hawaiian Tortilla Pizza
Serves 1
1 flour tortilla
2 Tablespoons pizza sauce
Cooked ham, diced small
Green pepper, minced
Onion, minced
Pineapple tidbits, well drained
Mozarella cheese
Pepperoni (optional)
Parmesan cheese
Preheat oven to 400 degrees F.
Lay tortilla flat on baking pan. Spread with pizza sauce and then top with other toppings as desired. Bake for about 10 minutes, or until edges of tortilla are crispy and light brown. The key here, again, is not too much topping. These go together in a snap and are nice when you have unexpected hungry company. Fresh mushrooms, diced, also go well on this pizza.
Sorry no final picture, it was GONE!