Peanut butter: The great glue that joins childhood to adulthood. There are so many things you can do with peanut butter. Fluffernutters, cookies, on top of pancakes, if you don't like dinner make a pb/jelly sandwich . . . The list goes on and on. For adults, we like those things too, but you can also use it in satay or on a cold noodle salad in the dressing . . .
There is a great debate in our house over peanut butter. Mom and I like crunchy. Dad likes plain. So we outnumber him, right?? Well, that is what we think, but we still have to keep plain peanut butter around for him!!
There is just something comforting about peanut butter. Crunchy or plain, it is always there for you. At one of the Mennonite stores we go to, they have honey-roasted peanut butter, freshly ground- MMMMMMMMMM.
And peanut butter with chocolate - who can resist? Not me, that is for sure! The Reeses Big Cup is my favorite candy bar! When I was a kid, I used to take a chocolate bar and dip it in peanut butter - heaven!!
Here is my recipe for peanut butter cookies - and you can use plain or crunchy, as you like!
Peanut Butter Cookies
3 dozen cookies
3/4 cup peanut butter
1/2 cup Crisco
1-1/4 cups firmly packed brown sugar
3 tablespoons milk
1 tablespoon vanilla extract
1 large egg
1-3/4 cups all purpose flour
3/4 teaspoon baking soda
3/4 teaspoon salt
Heat oven to 375 degrees F. Combine peanut butter, crisco, brown sugar, milk and vanilla in large bowl. Beat at medium speed of electric mixer until well-blended. Add egg and blend.
Combine flour, baking soda and salt. Add to creamed mixture at low speed until just blended.
Roll into approximately 1 inch balls and place on cookie sheet.
Flatten slightly by criss-crossing tines of fork on top.
Bake, one sheet at a time, for 7-8 minutes. Cool 2 minutes on baking sheet and then transfer to wire rack to cool.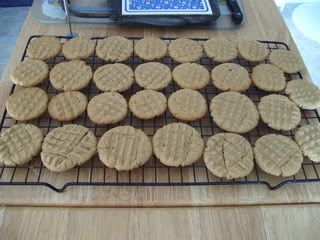 There you have it - my recipe for peanut butter cookies. You can take these over the top by adding in miniature chocolate chips or some chopped peanuts. Or . . . take them and sandwich them together with chocolate buttercream frosting! Let your imagination take over and spark up your inner child!