Little stuff. Sometimes it means a lot. Read the fine print. Don't take the little things for granted. In our busy world of today, many times, the little things get overlooked. As for me, I appreciate the little touches. That little bit of extra effort makes everything worth while. A smile on a rainy day . . . a single rose . . . a cup of tea in the afternoon . . .a thoughtful note from a friend. They are certainly little things, but they mean so much.
I certainly can't afford the big things in life, so I try to make what little things I can afford really mean something. I try to put my personal stamp on whatever I make or do for someone, to let them know that I took a little extra effort. A little thing, yes, but I know that I took that extra time to make it special for someone. When I make something, I make it with love. If all I can afford is to make someone a meal for their special day or event, it will be all homemade and of the very best quality I can find.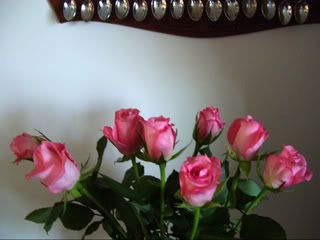 I like little things. Miniature things seem to fascinate me. Little teapots and teacups. Little trinkets. Miniature roses. And I would much rather receive a few little things than one big thing. Just my nature I guess.
Little things are often called trifles. This term is often used disparagingly, as if the object being referred to is not worthy of notice. Well I happen to like trifles, so I am going to share with you a trifle that I made recently. In fact, this trifle was so big that I am going to give you the cake part today and the custard part tomorrow. I made this trifle by request for my mother on Mother's Day.
Right Proper English Trifle
Serves 12
Almond Pound Cake
2 sticks (1/2 pound) butter
3 cups sugar
1 cup sour cream
3 cups flour
1/2 teaspoon baking soda
6 eggs
1 teaspoon almond extract
Cream butter and sugar in large bowl. Add sour cream. Combine flour and baking soda. With electric mixer at low speed, mix in alternately flour mixture and eggs, beating well after each addition. (1 egg, beat, 1/2 cup flour mixture, beat, etc.)Stir in almond extract. Pour into a greased and floured pan (Bundt or I used 2 loaf pans). Bake at 325 degrees F for 1 hour, 20 minutes or until tests done.
When cool, slice about 1/2 inch thick or so with a sharp knife.
Then spread half the slices with seedless raspberry jam and make miniature sandwiches with it.
Put the "sandwiches" in an attractive pattern in a clear glass bowl.
Now, most trifle recipes call for using sherry, but I don't like the flavor. So I used some Da Vinci amaretto syrup. Just a couple or three soup spoons and drizzled it over the cake.
Then top that with fruit. You can use what you like, fresh, frozen or canned. I had some lovely sweetened frozen strawberries that I used, probably about a quart or so. They were still slightly frozen when I put them on.
Now tomorrow, I will take you thru the homemade custard and then the whipped cream.
Note: I only used 1 of my loaf cakes to make a fairly big bowl of trifle. I also used only about half of the custard recipe, so you can easily half this and still serve probably 8 people at least.