Everyone has favorites. Things, tastes, looks or even people that you like just a little more than you do others. Your favorites. I usually have pretty pronounced favorites, I am a black or white type of person, don't see a lot of gray.
I like cats, anything Victorian, snow, autumn, mysteries, pink roses . . . . I have a big list!
I try to be tolerant of most things, but I still have favorites. For example: when dining out, I prefer to have my food brought to me already plated, not go to a buffet. I have a favorite set of measuring cups and a favorite set of measuring spoons - but I do not use them exclusively. I have a favorite soda, but I will drink others.
And yes, I have favorite people. I will visit with some who are not my favorite, but if I have my druthers . . . .
These cookies today are some of my favorites. Not only do they taste good, but they are easy to make. They turn out perfectly every time.
Chocolate Chip Cookies
Makes about 3-1/2 dozen
3/4 cup Crisco shortening
1-1/4 cups firmly packed light brown sugar
2 Tablespoons milk
1 Tablespoon vanilla
1 egg
1-3/4 cups all purpose flour
1 teaspoon salt
3/4 teaspoon baking soda
1 bag (12 oz) semi-sweet chocolate chips
Heat oven to 375 degrees F. Put racks on counter for cooling cookies.
Combine Crisco, brown sugar, milk and vanilla in large bowl. Beat at medium speed with electric mixer until well-blended. Beat egg into creamed mixture.
Combine flour, salt and baking soda. Mix into creamed mixture until just blended. Stir in chocolate chips.
Drop rounded tablespoonfuls of dough 3 inches apart onto ungreased cookie sheets. Bake one sheet at a time for 8-10 minutes for chewy cookies (recommended by me!) or 11-13 minutes for crisp cookies. Cool 2 minutes on baking sheet. Remove cookies to racks to cool completely.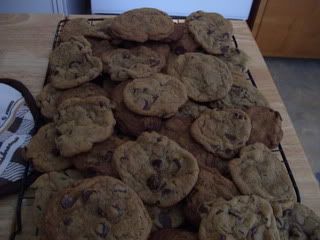 What are some of your favorites??