I like things that are homegrown. Homemade. I love to go to Farmer's Market and buy fresh produce. Better yet, I like to grow it myself, but I have limited time and space to do that. And usually my allergies will not let me do much. There is just something so satisfying about harvesting, fixing and eating your own produce. That way, you know what has went into it. You appreciate it much more.
We do not have a lot of garden space here. Last year we put in cucumbers and dill and made over 100 jars of pickles. We have several half-barrels that we plant tomatoes in. I think that is the way to go with tomatoes, easier to get the weeds out of for sure.
This year it has been very wet and cool, so we have our tomatoes in, but in the garden spot we just planted dahlias. We did find two bush cucumbers and have those planted in pots and have a few peppers also. We are going to get a bush zucchini, too.
We did plant some lettuce early before it gets too hot. Here in Missouri, we usually go straight from 50 to 90+ overnight and then it stays hot and steamy until late September. Ugh! This spring, however, it has stayed cool and nice and is just now heating up.
So without further ado, fresh from our garden, I give you:
Wilted Lettuce
Fresh leaf lettuce, washed and trimmed
Bacon, fried and crumbled - reserving 1 Tablespoon drippings
Hard boiled egg, chopped
Red onion, chopped
Dressing
1/2 cup cider vinegar
3 Tablespoons brown sugar
1/2 cup water
2 Tablespoons flour
Into your hot bacon drippings, stir the flour to make a roux. Stir into that the vinegar and water. Cook until thickened and bubbly. Sprinkle over brown sugar and stir until well-blended.
Pour hot dressing over lettuce and top with bacon, egg and onion. Munch down!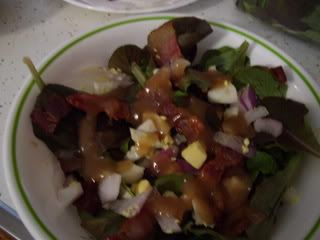 It is that simple and you can have a delicious, old-fashioned (if not calorie-conscious) treat! When we have a lot of lettuce, this makes a supper for me!
What are some homegrown pleasures you enjoy?