Summer time. Bees lazily wending their way from flower to flower. The drone of locusts in the sleepy, hazy twilight. Heat shimmering off of the pavement. A tall pitcher of lemonade, ice cubes clinking, as the condensation gathers on the outside. There is just something about summertime that makes you wax nostalgic, wishing for a simpler time, when life moved slower.
When you played baseball with a stick instead of a proper bat, and it was a street game or just a friendly game, no parents were allowed. Teams were chosen by the "captains" and the captains changed every day. No uniforms, either, just old t-shirts and shorts or jeans. Old sneakers, not cleats. The words that were shouted were friendly, teasing, encouraging, not harsh and critical.
Or maybe, instead of playing baseball, you climbed up in a tree and went adventuring with a book. You sailed the seven seas with Long John Silver and his pirates or went under the sea with Captain Nemo. You explored far distant lands, perhaps even blasted off into space. I was usually with the Hardy Boys and Nancy Drew as they rid the world of evil-doers! Perhaps you spent some time with Sherlock Holmes and Dr. Watson in the foggy streets of Victorian London.
You played outside unless it was raining. You got good and dirty, then you came in and took a bath before bed. Once a week or so, you went to the library and got some books to take with you when you climbed the tree to read. You got up early and helped your Mom in the garden.
Lunches were uncomplicated affairs during those times - bologna sandwiches and some chips, maybe an apple. And maybe, if you had been really good, cookies. My mother hates to make cookies. You can always tell her first batch from her last batch. The last batch are about twice the size. She wants to be done!
These cookies make me think of a tall glass of lemonade on a hazy summer's day back when I was a kid. Recipe comes from The King Arthur Flour Cookie Companion.
The Essential Chewy Sugar Cookie
3 dozen cookies
3/4 cup unsalted butter
3/4 cup sugar
1/2 cup brown sugar
1/4 cup light corn syrup
2 teaspoons vanilla extract
1/4 teaspoon nutmeg
1-1/2 teaspoons baking powder
1/2 teaspoon baking soda
1/2 teaspoon salt
1 large egg
2-1/2 cups unbleached all-purpose flour
1/4 cup coarse or granulated sugar, for coating
Preheat oven to 375 degrees F. Line 2 baking sheets with parchment paper.
In a big bowl, beat everything but the flour together. Stir in flour.
Put coarse sugar in a shallow dish. Drop the dough by tablespoonfuls into the sugar, rolling the balls to coat them.
Place on prepared sheets.
Bake for 10 minutes or until the edges are just barely beginning to brown. Remove from oven, cool on sheets for 5 minutes, then transfer to rack to cool completely.
Serve with a big glass of ice-cold lemonade on a hot summer day, close your eyes and daydream about a slower pace of life!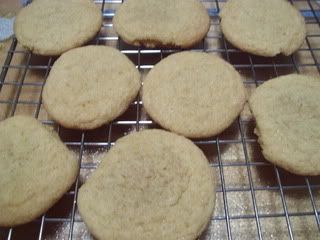 I see that I am going to have to use a different photo storage thing, photobucket is being very recalcitrant!